LEMKEN Varitansanit 8 reversible plough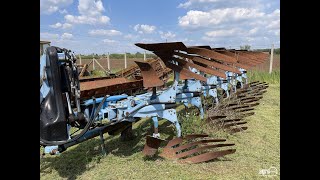 1/15
≈ $19,620
≈ NGN 8,460,000
Location
Hungary
Csengele
Placed on
more than 1 month
Need delivery?
Calculate the cost of delivery
Lemken Varitansanit 8
7 furrow reversible plough, trash boards, skimmers, massive hydraulic head stock, hydraulic center link

Year: 2010
Has monitor: Yes

// RIMS AND TIRES //

- 340/55-16 BKT tires

// LIGHTING AND ELECTRIC SYSTEMS //

- Hydraulic control monitor

// ATTACHMENTS //

- Skimmers
- Toolbox
- Hydraulic center link

// OTHERS //

- Operating speed 7 km/h
- Draught requirement: 270 HP

// SELLING ON BEHALF OF CUSTOMER //

- Machines offered here on commission sale are owned by Hungarian farmers and the sale is fully handled by the AGROPARK team. The machines are still at the farmers' yard and all the services were carried out by farmers or dealers (service history is mostly available at the farmers' yard). Upon request more pictures (over 100 pieces of high quality pictures and videos on WhatsApp) are also available.

Should you have any questions, please don't hesitate to contact us.
Phone: please see contact details
We also offer Europe-wide shipping.

AP: 25488
Lemken Varitansanit 8
7 furchiger Drehpflug, Einlegehände, Vorschäler, massives hydraulisches Drehwerk, hydraulischer Oberlenker

Baujahr: 2010
Hat Monitor: Ja

// FELGEN UND REIFEN //

- 340/55-16 BKT Reifen

// ELEKTRISCHE UND BELEUCHTUNGSSYSTEME //

- Kontrollmonitor für Hydraulik

// ZUSATZGERÄTE //

- Vorschäler
- Werkzeugkasten
- Hydraulischer Oberlenker

// ANDERE //

- Betriebsgeschwindigkeit: 7 km/h
- Zugbedarf: 270 PS

// IM KUNDENAUFTRAG ZU VERKAUFEN //

- Die hier im Kommissionsverkauf angebotenen Maschinen sind im Besitz von ungarischen Landwirten und der Verkauf wird vollständig vom AGROPARK-Team abgewickelt. Die Maschinen stehen noch bei unseren Kunden und alle Serviceleistungen wurden durch die Landwirte oder Fachhändler durchgeführt (Servicehistorie ist meist bei den Landwirten direkt vorhanden). Auf Anfrage sind auch mehrere Bilder und Videos (über 100 Bilder und Videos in hoher Qualität per WhatsApp) verfügbar.

Bei Fragen stehen Wir gerne zu Verfügung.
Telefon: siehe Kontaktinfo
Wir bieten auch Transport in ganz Europa an.

AP: 25488
Lemken Varitansanit 8
7 fejes váltva forgós eke, réselt kormánylemezek, előhántolók, masszív hidraulikus fordítómű, hidraulikus harmadik pont

Évjárat: 2010
Monitorral rendelkezik: Igen
Garancia: Nincs garancia

// FELNI ÉS GUMIMÉRET //

- 340/55-16 BKT gumizás

// VILÁGÍTÁS ÉS ELEKTROMOSSÁG //

- Hidraulika vezérlő monitor

// TARTOZÉKOK //

- Előhántolók
- Szerszámosláda
- Hidraulikus harmadik pont

// EGYÉB //

- Üzemi sebesség 7 km/h
- Szükséges vontatási teljesítmény 270 LE

// BIZOMÁNYOS ÉRTÉKESÍTÉS! //

- A hirdetett gép leinformálható és a jelenlegi tulajdonos által rendszeresen karbantartott. Ezen mezőgazdasági gép bizományos értékesítését az AGROPARK kezeli, közvetlenül a tulajdonos telephelyéről! Természetesen ugyanúgy tudunk segíteni kedvező lízing konstrukciókban, géptörésbiztosításban, vagy akár a gépszállításban is! További több mint 100 db fényképért keressen minket elérhetőségeink egyikén!


Vásároljon ÚJ vagy HASZNÁLT mezőgazdasági erőgépet kedvező lízingre, pályázat esetén pedig kedvező hitelre!
Alacsony, fixált forint kamat, 3 vagy 5 éves futamidő, évi kétszeri vagy szezonális törlesztéssel, alapesetben min. 10% + teljes Áfa önerő, gépbeszámítás esetén akár 0% önerő befizetésével. A gépek életkora nem haladhatja meg a 20 éves kort a hitel vagy lízing lejártakor.

Figyelem! Gépbeszámítás új és használt gépbe egyaránt! A tájékoztatás nem teljes körű, részletes információkért kérjük hívjon!

AP: 25488
Lemken Varitansanit 8
plug cu 7 cap reversibil, plăci de direcție cu fante, prepluguri, traductor hidraulic robust, punct trei hidraulic

An fabricație: 2010
Cu monitor: Da

// DIMENSIUNE JANTĂ SI ANVELOPE //

- Pneuri 340/55-16 BKT

// ILUMINARE ȘI ELECTRICITATE //

- Monitor de control hidraulic

// ACCESORII //

- Pre-pluguri
- Cutie scule
- Al treilea punct hidraulic

// ALTELE //

- Viteză de operare 7 km/h
- Putere necesară 270 LE

// VÂNZARE IN REGIM CONSIGNAȚIE //

- Mașina anunțată are toate informațiile despre istoric și este întreținută în mod regulat de către proprietarul actual. Acest utilaj agricol este vândut de către AGROPARK în numele clientului, direct de la sediul proprietarului! Bineînțeles, vă putem ajuta și cu informații despre leasinguri avantajoase sau chiar transport de utilaje! Pentru alte peste 100 de fotografii cautați-ne la oricare dintre adrese de pe pagina noastra.

Oferim finanțare avantajoase si pentru clienții din Romania.

Pentru întrebări și sugestii, nu ezitați să ne contactați.
Telefon: vezi detalii de contact
Livrăm în toată Europa

AP: 25488
Important
This offer is for guidance only. Please request more precise information from the seller.
Safety tips
Seller's contacts
Export sales team
Languages:
English, Hungarian, German
Hungary, 6765, Csengele, Agropark 1
Seller's local time: 14:36 (CEST)
Selling machinery or vehicles?
You can do it with us!