New BOMET Pług obracalny LEO 45cm 4 skibowy BOMET plough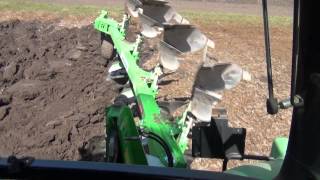 1/8
Model
Pług obracalny LEO 45cm 4 skibowy BOMET
Location
Poland
Stoczek
Need delivery?
Calculate the cost of delivery
Pługi obracalne Leo doskonale sprawdzają się w średnich i dużych gospodarstwach w każdych warunkach glebowych z ciągnikami o mocy od 55 KM do 130 KM. Przeznaczone są do wykonywania bezzagonowej średniej orki na polach płaskich, pochylonych i pagórkowatych, na wszystkich typach gleb.

Rozstaw korpusów na ramie wynosi 90 cm, a prześwit pod ramą równy 78 cm pozwala na swobodna pracę na wysokich ścierniskach jak również na polach z resztkami pożniwnymi.

Profil ramy głównej wynosi 120 x 120 mm. Szerokość orki jest ustawiana skokowo dla trzech pozycji (30 cm – 38 cm – 45 cm).

Regulacji dokonuje się w łatwy sposób poprzez odpowiednie przestawienie śruby regulacyjnej na każdym siodle korpusu na ramie pługa. Ustawienie samej ramy (liniowanie) dla poszczególnych szerokości roboczych odbywa się przy użyciu śruby rzymskiej.

Regulacja pierwszej skiby odbywa się mechanicznie poprzez śrubę pozwalającą przesuwać suwak wraz z ramą po nieruchomej leżni pługa.

Małe szerokości skiby zaleca się stosować podczas orki siewnej, zwłaszcza na glebach ciężkich wymagających dobrego pokruszenia. Z kolei duże szerokości skib zaleca się stosować podczas orki przedzimowej, zwłaszcza na glebach lekkich i średnich.

Maszyna wyposażona jest standardowo w zabezpieczenie przeciw kamieniom w postaci śruby ścinanej, gwarantujące dłuższą żywotność pługa. Ponadto każdy korpus może być wyposażony w przedpłużek lub krój talerzowy o średnicy 41 cm.

Zapewniamy transport na terenie całego kraju.

502116601

Zamówienia przyjmujemy telefonicznie. Doradzimy przy doborze maszyn i przygotujemy najlepszą ofertę.

Zapraszam na pozostałe ogłoszenia.
Important
This offer is for guidance only. Please request more precise information from the seller.
Safety tips
Seller's contacts
Poland, Mazoweckie, 07-104, Stoczek, ul. Kolejowa 15a
Seller's local time: 16:15 (CEST)
Selling machinery or vehicles?
You can do it with us!