The ad LIFTER FARMTEC GREEN other equipment has been sold and is not included in the search!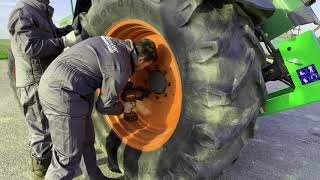 1/2
Location
Italy
Pettorazza Grimani (RO)
LIFTER FARMTEC GREEN è un dispositivo utile a sollevare la parte posteriore del trattore in maniera semplice e sicura che ne agevola la manutenzione, la sostituzione di ruote o l'installazione di doppie ruote. Il collegamento con la trattrice avviene tramite il sollevamento idraulico della stessa che andrà ad agganciarsi al telaio del dispositivo LIFTER e le ruote quindi verranno sollevate da terra. Il trattore sollevato poggia sulle ruote del sollevatore avente a suo favore un solido telaio tubolare e può guidare su una superficie piana in cemento senza ruote posteriori, ma con trazione anteriore attivata.